Bald Eagle – Patient #18-0035
Every patient who comes through the doors of Chintimini's clinic is special, no matter what size or species. From the smallest newborn squirrel to a large bobcat; scaled snakes, furry raccoons, and all of our feathered patients – each one is cared for in the hopes of a full recovery.
There's something to be said, however, about eagles. They're majestic. They're symbolic, fierce predators. And each year we take in a few that we are privileged to care for.
Claudia Benfield, one of Chintimini's guest bloggers and a Friday night shift leader writes about her most recent experience with a Bald Eagle patient: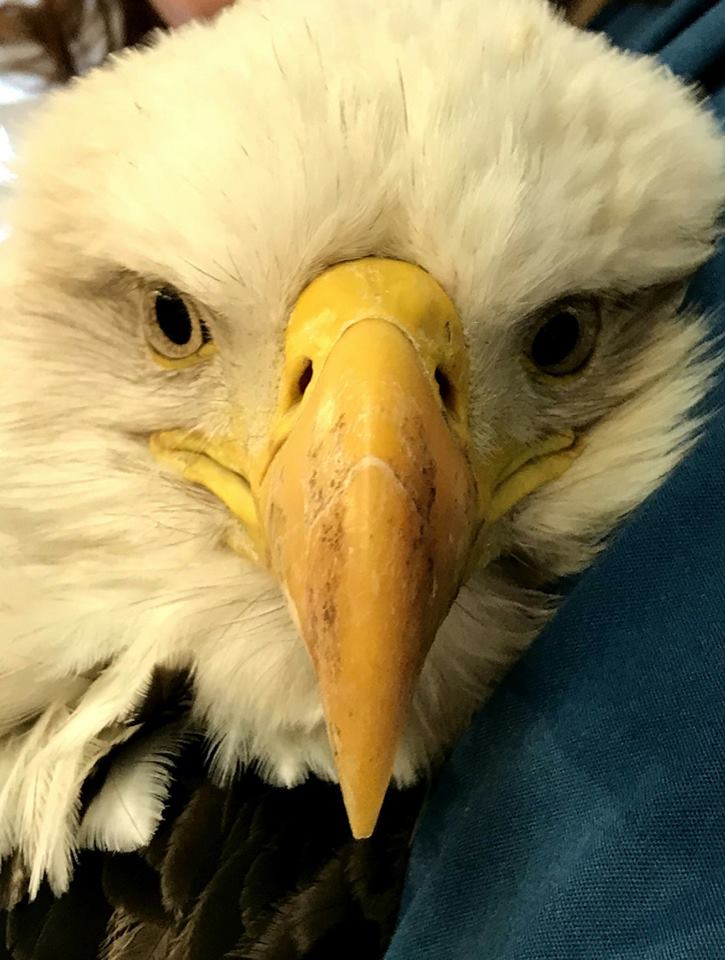 "On January 19, I had a very special Friday night shift. When I got to Chintimini, I found out that there was an injured Bald Eagle coming from Brownsville. I immediately started getting ready for his arrival. I started to think about the steps I would need my shift to take to successfully admit him. I thought about which cage in the ICU would be the least stressful for him to be in. I covered the cage doors to create a dark atmosphere and carefully placed all the correct type of bedding inside. Then, we finally got the call that they were on their way with the eagle. I was a little bit nervous as this would be a very special patient and I wanted everything to go smoothly.
When the Bald Eagle arrived, he was in a small cage. It was the only cage they had on hand. The people that had brought him to us wanted their cage back so I began the process of getting him out. I was the only one on my shift who had ever held a Bald Eagle before so it was a big teaching moment for everyone. We started to try to get him out of the small cage into a larger one. While my coworkers held the cage up, I slipped the bottom of the small cage out causing the eagle to slip on out into the bigger cage. When he was out, I managed to wrap the eagle in a towel. I picked the eagle up and took him to our Treatment Room for a quick examination. He was very strong, but we needed to be able to give the Animal Care Directors an idea of what may be wrong with him. After a short examination we figured out that he probably had a broken wing. We put him in his cage and waited for the Animal Care Director to come in.
Once the Animal Care Director was there, I got the eagle out of the cage once more so she could give it treatments, tube feeding and further examinations. She also wrapped up the wing, gave it some medicine and drew some blood to test for lead poisoning. The test for lead poisoning had a negative result. I held the eagle the whole time. He was a very active and strong eagle. While I have held Bald Eagles before this, I had never mustered up the courage to get them from the cage myself. Honestly, I have always been frightened of that step and this time there was not a backup person to hand the eagle to me. It's times like these where this type of work teaches a person the amount of inner strength one has and builds confidence in oneself. If I am to be honest, I was very excited that we got a Bald Eagle, but at the same time I was so scared and honored to be able to help such a majestic bird. My coworkers helped out the whole time and it was such a good team effort. The whole admission of this eagle took us the entire night. I was so grateful to have great volunteers on our shift that were able to take care of all the other animals while a few of us took care of the eagle. I am hoping that we will be able to rehabilitate the Bald Eagle and eventually release him into the wild again."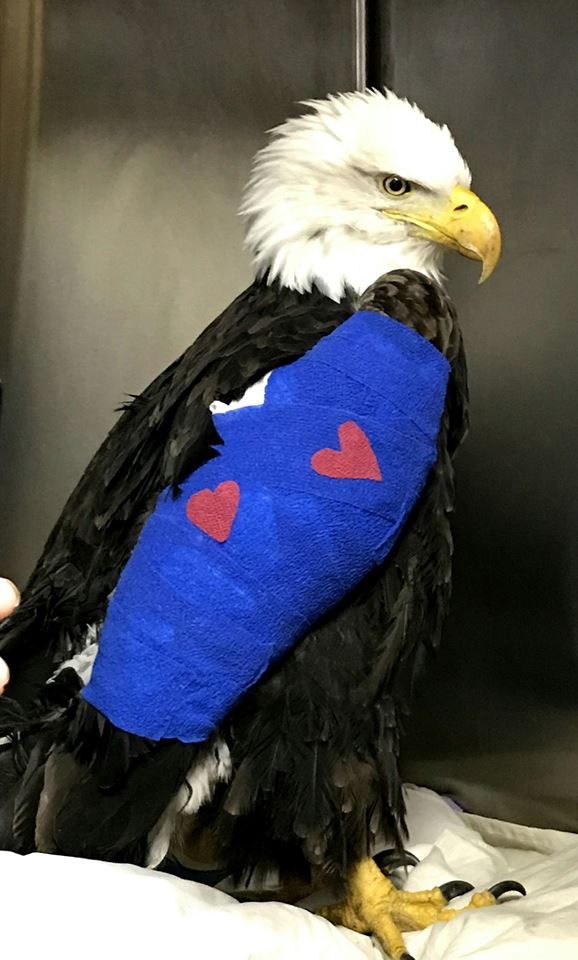 Over the weekend of January 20th, this Bald Eagle underwent surgery to repair a shattered ulna caused by some type of projectile. It is incredibly unfortunate that he suffered at the hands of someone's careless act, however he was welcomed to Chintimini Wildlife Center by many kind and caring people. He received surgery by Dr. Claire Peterson (thank you, Claire!) and will have round-the-clock, high quality & compassionate care by our Animal Care Directors and fantastic volunteers. Though he has a long road ahead of him, we are hopeful for a successful recovery.