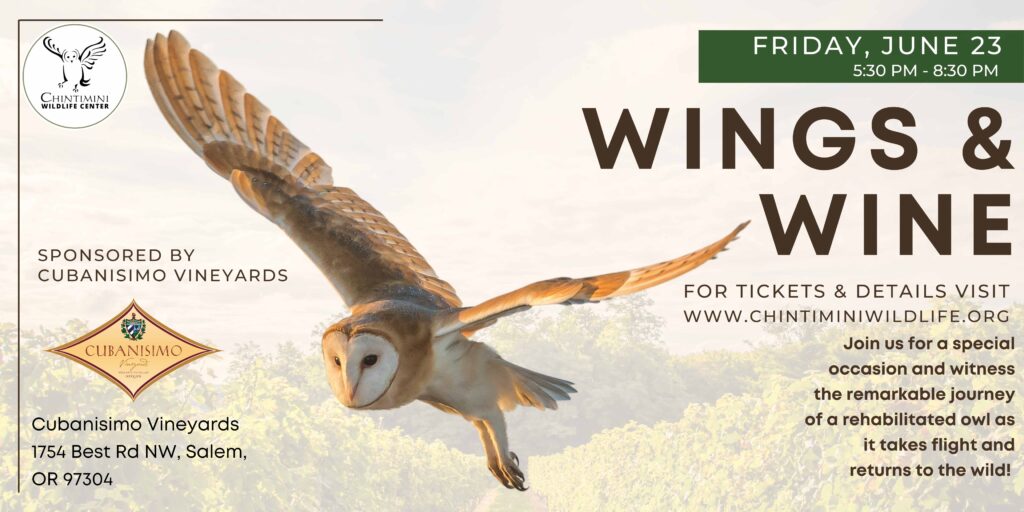 Wings & Wildlife
---
Join us for a memorable and unique opportunity to witness the remarkable journey of a rehabilitated Great Horned Owl as it takes flight and returns to the wild! This patient arrived at our center from West Salem, orphaned, hungry, and in need of help. We were unable to reunite this nestling owlet with its parents, so the journey of raising them to be wild began! Want to learn how we accomplished this patient's successful rehabilitation story? On Friday, June 23rd at Cubanisimo Vineyards, 1754 Best Rd NW, Salem, OR 97304, you and your family can witness his return and learn how from 5:30 – 8:30 PM.
Tickets must be purchased to attend the event. One (1) admission ticket ($30) includes one (1) complimentary glass of wine, a meet & greet with our Raptor Ambassadors, and a unique opportunity to witness the release of Great Horned Owl patient #22- 220.
Thank you to our fantastic sponsor Cubanisimo Vineyards! They are generously donating 100% profit from the admission tickets sold to Chintimini Wildlife Center. This donation allows us to continue to serve the community of the Willamette Valley and all of its wild neighbors. Your attendance helps our center save lives, such as patient #22-220.
Get your tickets today! We encourage you to share this event with friends and family and hope they will join us for an evening that supports our mission of rescuing, rehabilitating, releasing wildlife, and providing nature education to all members of our community! You can purchase tickets here!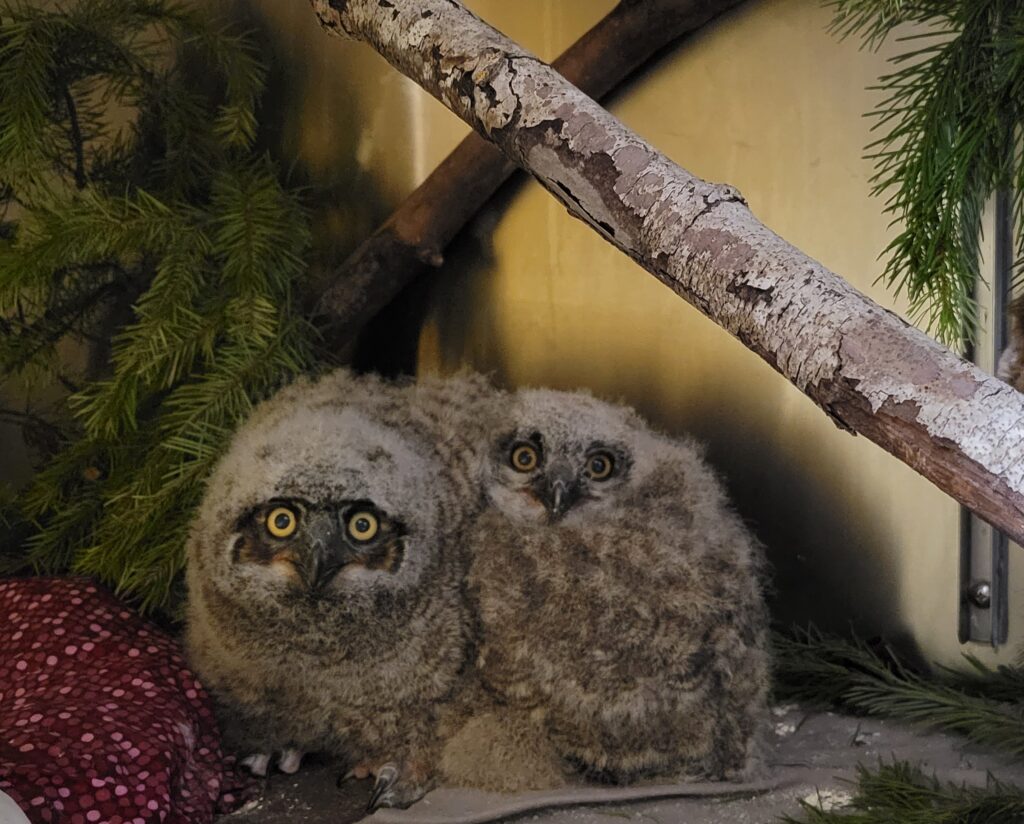 Yes! You are more than welcome to bring your kiddos! However, all tickets include 1 glass of complimentary wine, and you must be 21+ to use the drink ticket. Tickets may be gifted to a parent or an attendee of a legal age.
We love your furry friends but request you leave them at home! Only service animals are eligible for entrance and will need to be arranged prior to the event. Our Ambassador Animals will be present and need a safe environment. Please email info@chintiminiwildlife.org for more info.
The event is from 5:30 – 8:30 PM. To be able to witness the release, we recommended arriving at the start of the event to meet our Raptor Ambassadors and have plenty of time to grab a glass of wine. The time of the release is dependent on many factors, including air quality, wind, temperature, and more, but we are anticipating anywhere as early as 6:30 PM or as late as 7:30 PM.
Tickets are non-refundable; however, they can be transferred.
There are snacks available for purchase, but feel free to bring your own picnic!
This will depend on many factors as we consider the well-being of our raptor ambassadors. You may have the chance to meet Kit, our Peregrine Falcon, Penny, our American Kestral, or one of our Turkey Vultures. We cannot guarantee which ambassador will be attend the Meet & Greet.
Non-flash photography for non-commercial use is permitted for our Raptor Ambassadors. Please only photograph or record the birds that are introduced during your visit. Please follow all instructions or requests given to you by our staff/volunteers during your visit.

Please do not sell or publish photographs of our Raptor Ambassadors without prior approval.