Urban Predatory Mammals
Living with urban wildlife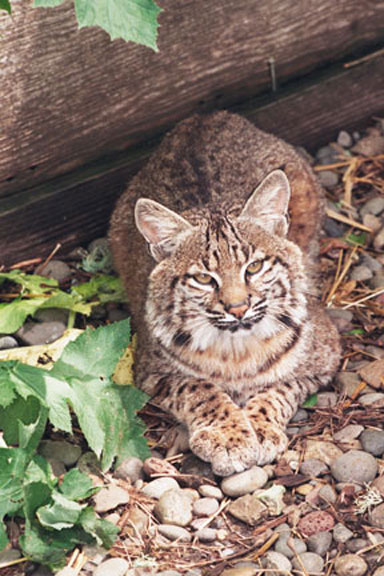 Bobcat
People become concerned whenever the larger predator mammals in our area (such as coyotes, foxes, bobcats, mountain lions, and bear) attempt to prey on domesticated livestock and pets. These predators are able to survive on natural prey and are rarely seen by people. But as human development takes over wild areas, and easy-to-catch domestic animals become more abundant, the number of cases of wild predators taking livestock will increase.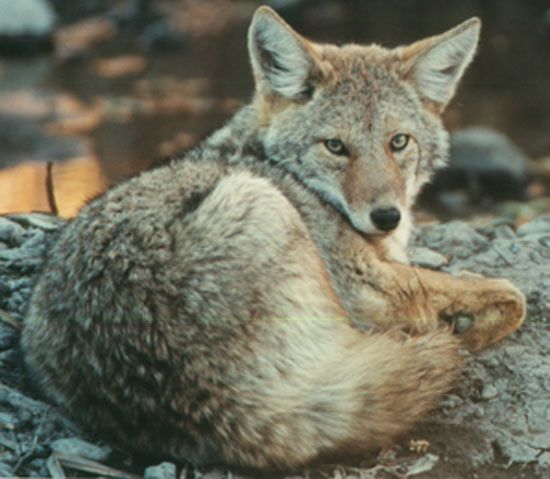 Coyote
The only sure way to keep your animals safe is to confine them in enclosures that the predators cannot get into. Keeping livestock and pets inside an enclosed, predator-proof structure from sundown to sunrise, when predators are most active, will keep your animals safe. Newborn and juvenile animals should be kept enclosed in pastures or pens and protected at all times. Some livestock owners have had success protecting livestock by using electric fences and guard dogs or llamas.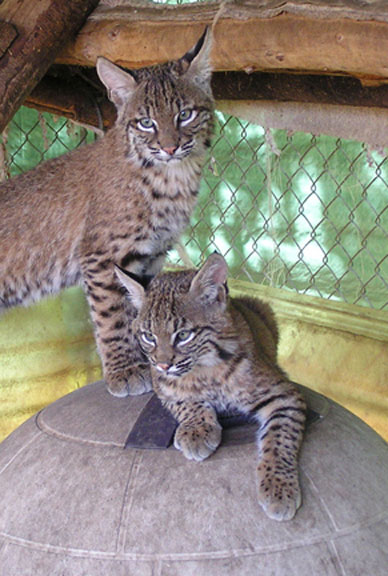 Juvenile bobcats

Because of their nature, many predators have historically been trapped, poisoned, or shot when they are perceived as a threat to human interests. For the reasons described in Wildlife Conflicts, these actions are short term at best unless the underlying reason for the predators' presence–easy-to-catch domestic animals– is removed. In fact, recent research has shown that some of these animals respond to decreases in their population levels with an increase in birth rates and survivability of the young.
Watch videos on Chintimini bobcats
Chintimini Wildlife Center Orphaned Bobcat Release
An orphaned baby bobcat, rehabilitated at the Chintimini Wildlife Center, is released back into the wild.
Bobcat bounds to freedom
If you just want to see him take off skip to 2:36. He was found badly injured in the fall of 2008 and was taken to Chintimini Wildlife Center. He was released in June 2009 at Bald Hill outside Corvallis, near where he was found.
Bobcat twins released on Earth Day 2010
These two came into Chintimini Wildlife Center in Corvallis in the summer of 2009 as kittens. They were found in a backyard in Springfield.


Contact us for more info.