Urban Squirrels
Living with urban wildlife

Squirrel
Tree squirrels, such as the native Douglas squirrel, the western gray squirrel, and the introduced eastern gray squirrel, become a problem when they enter homes in search of den sites and then cause structural damage. Squirrels will often gnaw through the wood around existing small openings to try to expand the hole and gain entry into the house.
The best way to discourage squirrels is to put screening over all openings, such as attic vents, chimneys, and cracks under the eaves. Cover all openings with 1/2-inch hardware cloth or metal flashing and be sure to exend this covering for at least six inches around all sides of the opening.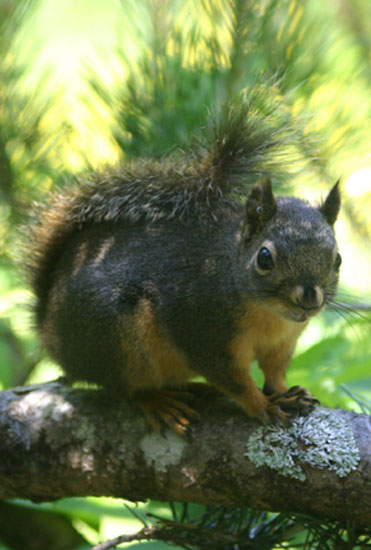 Douglas Squirrel
Using the techniques previously described under Removing Unwanted Wildlife Guests, adult squirrels can be displaced and excluded from your home. From March until September, however, you should assume that there are baby squirrels present, and you need to be sure that they are gone before you close off the den site in the winter. Use techniques described earlier to be sure that the adults have moved off before closing the openings.
To keep from attracting squirrels, do not feed them. Keep them away from birdfeeders by mounting feeders on tall smooth pipes that squirrels cannot climb, or suspend feeders from trees that have been wrapped with metal flashing at least six feet up from the base. The flashing will also prevent the squirrels from stripping bark from the trees.
If a squirrel gets trapped inside your chimney, lower a 1/2-inch thick rope down to the bottom of the chimney and the squirrel will climb out. If a squirrel enters your house through an open window and panics, close off all but one window or outside door in the room and leave the animal to find its way out.


Contact us for more info.