Volunteer Spotlight
Conor Zoebelein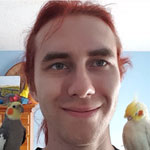 How long have you been @ CWC?
I have been volunteering with CWC since I started my bachelor's degree in 2009. I started working as a researcher in the OSU veterinary medicine department and was recommended to the program by Sasha Rose who used to volunteer here. The rest is history!
What shift(s) are you on?
I have always been on the Friday PM shift and occasionally dabble in others.
Do you have a field of study (past or present)?
Recently, I graduated with an M.S. in environmental engineering after receiving a B.S. in the same major from Oregon State University. My passion lies in all things science and engineering, and I have spent my years at OSU researching microbial biofilms, groundwater bioremediation, and the design and manufacture of microfluidic bioreactors!
Are you employed outside of your CWC volunteer position?
I work at a civil engineering consulting firm based in Salem, and my focus is in water and wastewater engineering. Forest Grove is my home town, and at the wastewater treatment plant in town there is an amazing public wetland called Fernhill Wetlands. Spending many days walking around there bird watching and being curious about the WWTP is one of the factors I attribute to my passion for birds and environmental engineering.
What is your favorite part about volunteering at CWC?
My favorite part of being at CWC is helping rehabilitate wild animals.
Do you have a favorite or most memorable patient (past or present)?
I love all the patients at CWC, but I will never forget the first cormorant I handled. Claudia (the other FRI PM shift leader) and I were picking up this cormorant to change its food and clean its cage. To pick up birds, a towel is laid over their back and head to reduce stress and to contain the patient. What I didn't know is that cormorants can turn their head in a 180 degree under their butt. This sneaky maneuver allowed the cormorant to surprise me with a friendly bite as we gave it fresh fish. After preparing its food and bedding and dealing with the pain, we were placing him back in his cage only to be thanked with what I would describe as a squirt-gun shot of poop over my shirt. I will never forget that cormorant.
What is something that your shift may not know about you?
Not all my clothes are black.
What book is currently on your nightstand?
No book is on my nightstand; but there is a journal on photosynthesis and respiration in Cyanobacteria.
What music is in your car right now?
Feels by Animal Collective.
Where are you from?
South Hampton, New York


Volunteer Conor Zoebelein with friends
Back to Volunteer Spotlights.
If you are ready to volunteer now, complete our online Volunteer Form, or fill out our form, print it, and mail or e-mail it back to us.



Want to Become a Volunteer?
Contact info@chintiminiwildlife.org or 541-230-1220.