Volunteer Spotlight
Claudia Benfield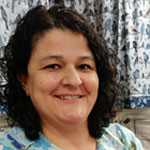 How long have you been @ CWC?
Over 5 years now.
What shift(s) are you on?
I am the Friday PM Shift Leader.
Do you have a field of study (past or present)?
I have a Bachelor of Science in Business Administration and Spanish. My calling for helping animals came later in life. If I had to do it over again, I believe my area of study would be quite different…
Are you employed outside of your CWC volunteer position?
Yes. I work for the Greater Albany Public School District at the Welcome Center and the District Office as the Migrant Education Liaison and Bilingual Secretary.
What is your favorite part about volunteering at CWC?
My favorite parts are caring for the Bald Eagles and bobcats. I especially love how Sparky the Bald Eagle chatters every time we go by his enclosure. My favorite thing is to be able to help those who don't have a voice. I love that I have had a hand in the survival of anything from a hummingbird to a Bald Eagle.
Do you have a favorite or most memorable patient (past or present)?
I have so many favorites! Just the other day I held a turkey while it was receiving medicine. It was just so sweet how it held its head near to mine. I love to help out by watching the patient's breathing during a surgery and making sure it is steady, like I did the other day with the surgery of the Bald Eagle that I had admitted during my shift. It makes me very happy to be able to show something a nicer side of life.
We had an injured North American beaver a few years ago that came in during my shift. Just seeing the innocence of its life really tugged at my heart. Even though it broke my heart when the beaver didn't make it but it is always good knowing that they didn't suffer out there alone.
I love learning about my own courage when I go to clean a cage with a Bobcat in it or even helping to feed a baby raccoon. I love the reminders that the wildlife gives me about my place in life and how they can show a little bit of their personality and how much happier they are when in the wild. I am always thrilled when I need to hold a raptor and feel its heartbeat.
What is something that your shift may not know about you?
I want my shift to know how much I appreciate their hard work. I can't thank them enough! I have a spectacular shift right now and am looking forward to working with them in the spring and summer.
What book is currently on your nightstand?
Elly – a memoir written by a holocaust survivor.
What music is in your car right now?
Foo Fighters and Lady Gaga – what a mix, but my favorites!
Where are you from?
I was born in Medellin, Colombia, South America. My father brought us to the United States when I was 6 months old and I was raised in Leonardo, New Jersey. I have been in Albany, Oregon for over 20 years now. This is home now.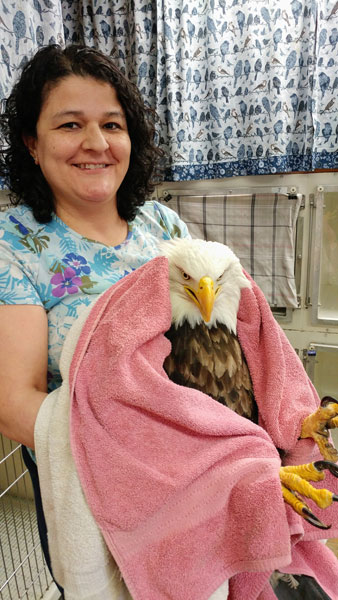 Volunteer Claudia Benfield with a Bald Eagle patient
Back to Volunteer Spotlights.
If you are ready to volunteer now, complete our online Volunteer Form, or fill out our form, print it, and mail or e-mail it back to us.



Want to Become a Volunteer?
Contact info@chintiminiwildlife.org or 541-230-1220.