How long have you been @ CWC?
3 Months
What shift(s) are you on?
Midday shift
Do you have a field of study (past or present)?
Fisheries and Wildlife
Are you employed outside of your CWC volunteer position?
Yes, I'm the Aquatics Senior Associate aka Aquatics Supervisor at Dixon Rec Center
What is your favorite part about volunteering at CWC?
Learning the different species of birds and their calls, because I focused more on mammals in school. From there, I can differentiate a few of their calls around town.
Do you have a favorite or most memorable patient (past or present)?
All of the swallows because I was fortunate enough to release them after taking care of them for so long!
What is something that your shift may not know about you?
I do triathlons.
What book is currently on your nightstand?
Because I'm in the process of moving, I don't have a nightstand, but I've been reading Fire and Fury and Harry Potter and the Chamber of Secrets.
What music is in your car right now?
FM 99.9 Country Music
Where are you from?
Walnut Creek (Bay Area), CA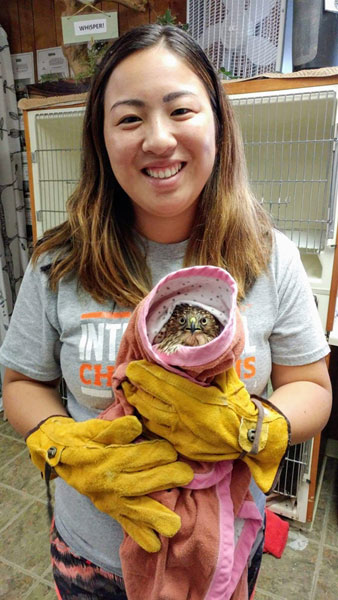 Volunteer Today!
If you are ready to volunteer now, complete our online Volunteer Form, or fill out our form, print it, and mail or e-mail it back to us.
Want to Become a Volunteer?
Contact info@chintiminiwildlife.org or 541-230-1220.