Our week-long programs immerse campers in the richness of wildlife! These themed camps provide a detailed exploration of the topics at hand. See below for a list and details of this year's upcoming camps.
All camps are Monday – Friday from 9am-3pm. We offer post-care from 3-5:15pm for $10/per day (per child).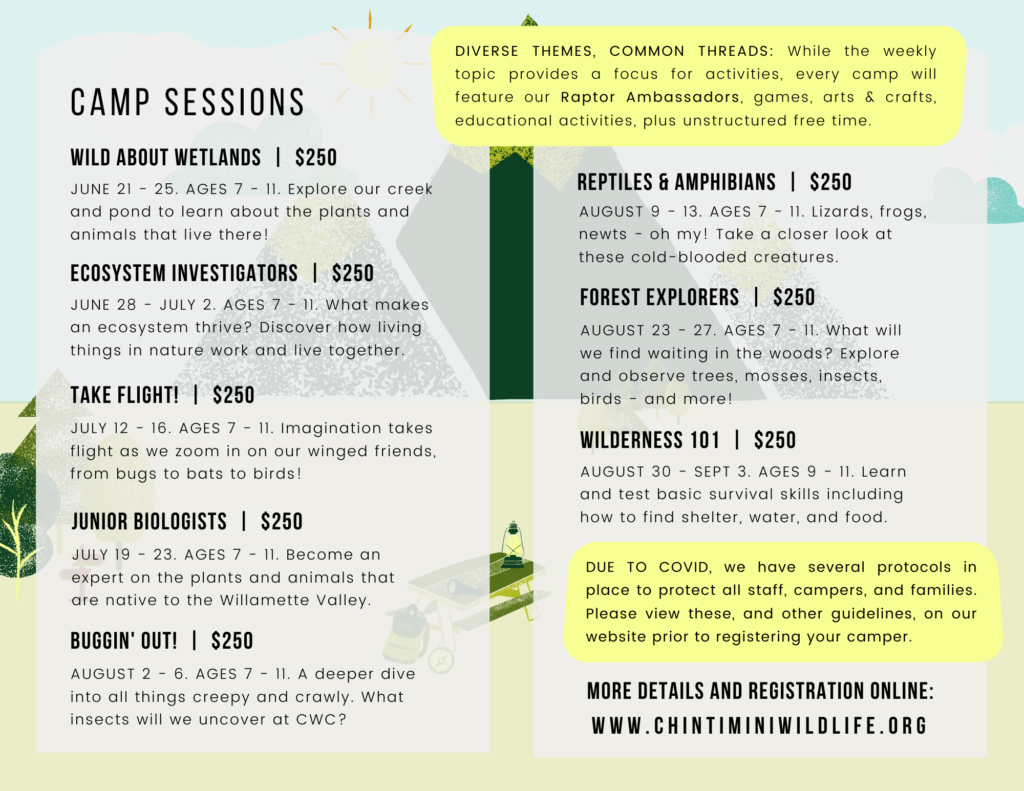 Registration is now LIVE for 2021!
Our main registration form is available online at this link.

You may call or email us to request assistance and/or another registration format.

If you plan to send multiple children to camp, each child must be registered separately.
Waiting List: If a program is full, please call or email us to be added to the waitlist.
Payment Information
Payment Options
Payment via Debit/Credit Card

In line with COVID-19 best practices, our preferred payment method is online by card.
Card payments are most easily accepted directly through the registration form.

You can also call to pay over the phone, or request an electronic invoice be sent to you. If you'd like this option, please select the "check" option on the registration form.

Payment via Check or Cash:

This is not our preferred payment method.
If paying by check or cash, please select the "check" option on the registration form. The registration form will provide an estimated amount due, and we will send you a formal invoice within 3-5 business days with instructions on how to pay.
We require that payment be made at least 14 days prior to the start of camp. If payment is not received, we will release your spot to another camper.
In general, checks should be made out to Chintimini Wildlife Center and should be mailed or hand-delivered to our physical address (above) as soon as possible. We discourage cash as a payment method.
Receipts
When paying by card, you will receive an automatic receipt from our payment processor at the email address used on the registration form. If paying by check, we will email you a copy of your receipt once payment has been processed.
Please let us know by phone or email if you need any additional receipts and/or documentation.
Safety Policies & Procedures
All staff and children ages 5+ are required to wear a face covering.​
Program sizes are limited to a maximum of 10 campers per week and 1-2 staff members.
Drop-off/Pick-up:

Campers can be dropped off daily between 8:45 – 9:00am at Chintimini Wildlife Center (311 NW Lewisburg Ave. Corvallis, OR).
At drop-off, your child's temperature will be taken and recorded. You will be asked to attest that your child is healthy and asymptomatic.
Campers are to be picked up between 2:45-3pm daily by an authorized adult. If post-care has been pre-arranged, pickup will be scheduled on a case-by-case basis no later than 5:15pm.
Authorized adults must sign their child in and out each day and will be asked to provide photo ID at pick up. Only those authorized to pick up a camper (provided at time of registration) will be allowed to do so.
All adults at drop-off and pick-up will be required to wear a face covering when outside of their vehicle.

Campers must bring their own food (lunch and snacks), water bottles, sunscreen, and any other items they may need during the day. Campers must be able to apply their own sunscreen. ​
Activities are designed to follow the best COVID-19 related guidelines available. For example:

Campers will remain outdoors for most of the day.
Activities will be modified to reduce the amount of physical contact between campers.
Shared materials, restrooms, and high-touch surfaces will be sanitized frequently by staff.

If your child appears or is feeling sick, they will be immediately isolated from other campers and sent home. You will be asked to keep your child at home if they have been exposed to someone with symptoms or a confirmed or suspected case of COVID-19.
​In the case that a child or staff member becomes symptomatic, we will notify local health authorities and follow their guidance. This guidance may include at-home isolation for any children or adults in contact with the symptomatic person for a 10-day period.​
Additional Information​
For any additional questions or concerns not addressed here, please call or email us!
Cancellation Policy
Chintimini Wildlife Center must receive notification of cancellation two weeks prior to the first day of any program to receive a full refund. A 50% refund may be available for cancellations received one week prior to the first day of any camp session. Please send cancellation notifications to camp@chintiminiwildlife.org.