Wildlife Conflict Resolution
The habits of urban wildlife species

Many wildlife species have adapted well to the encroachment of human development and represent the majority of animals that come into conflict with homeowners. This section covers the habits of the most common urban species, the potential for conflicts, and steps homeowners can take to avoid confrontations with wild animals.
Agriculture & Wildlife Protection Program
Agricultural operations in Benton County, Oregon are encouraged to learn about funding opportunities with the Agriculture and Wildlife Protection Program. This partnership between Chintimini Wildlife Center, OSU Extension Service, and Benton County provides education and financial assistance for the use of non-lethal wildlife damage deterrents. Learn more.
Videos: "Farming with Wildlife – Wildlife Friendly Methods to Reduce Conflicts" – A Benton County Agriculture and Wildlife Protection Program (AWPP) workshop. View videos.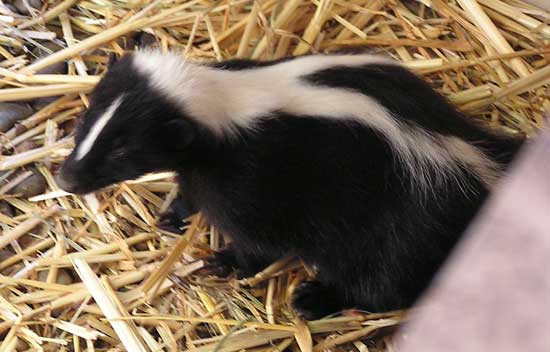 Skunk

More info about Nuisance Wildlife?
Contact Mary Estes at rehab@chintiminiwildlife.org or 541-745-5324.