How to Support the Wildlife Center
Fundraising Events
Take part in a fundraising event! Our signature annual fundraising auction is called Wild Night Out. Donate items, buy tickets, and bid to WIN on over 100 baskets, certificates, experiences – and more!
This year's annual auction will take place in Summer 2022 – click here to learn more!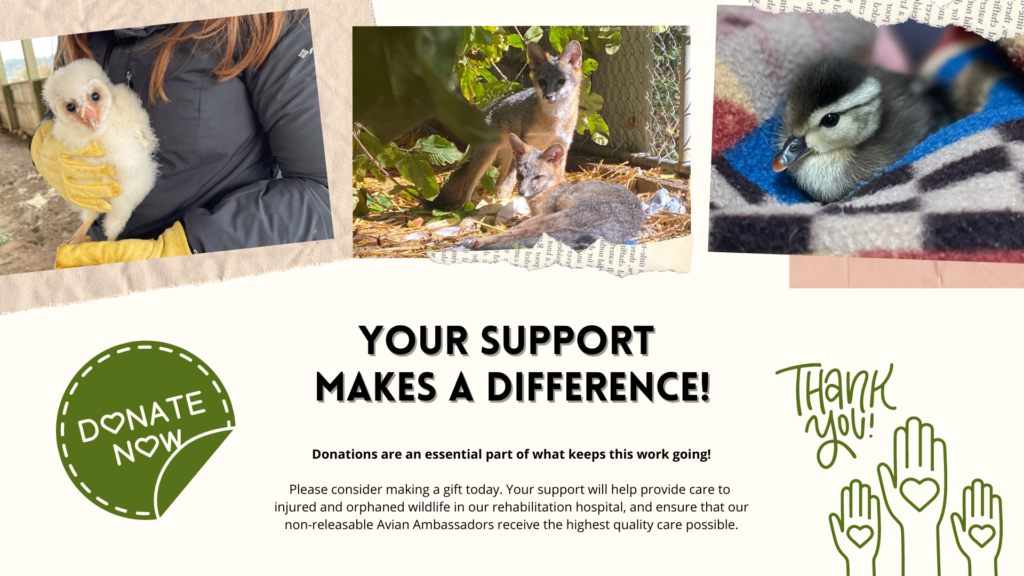 Donate by Mail
Checks can be made out to Chintimini Wildlife Center and mailed to the address at the right.
If you'd like to designate your donation for a specific purpose, we are able to efficiently recognize and apply these designations:
Wildlife Rehabilitation

program
Youth Scholarships (the Nigel Rose Weber Memorial Fund)
Raptor Ambassador program
For all other restricted funds, please contact us by phone or email first.
311 NW Lewisburg Avenue
Corvallis, OR 97330

Gifts In-Kind: Supplies, Materials, Services
Many opportunities are available for supporters to give supplies, materials, and services to the center for the benefit of the animals in our care. Please take a look at our Wish List of supplies and materials, and contact us to arrange for the donation.
Corporate Matching Gift Programs
We invite contributions through Corporate Matching Gift Programs, whereby many corporations match the gifts of their employees to charitable organizations like the Chintimini Wildlife Center.
Questions?
Please give us a call or email if you have any questions about making a donation.
Have a Question or Comment?