Winter Wildlife Field Days, March/Marzo 1 – 14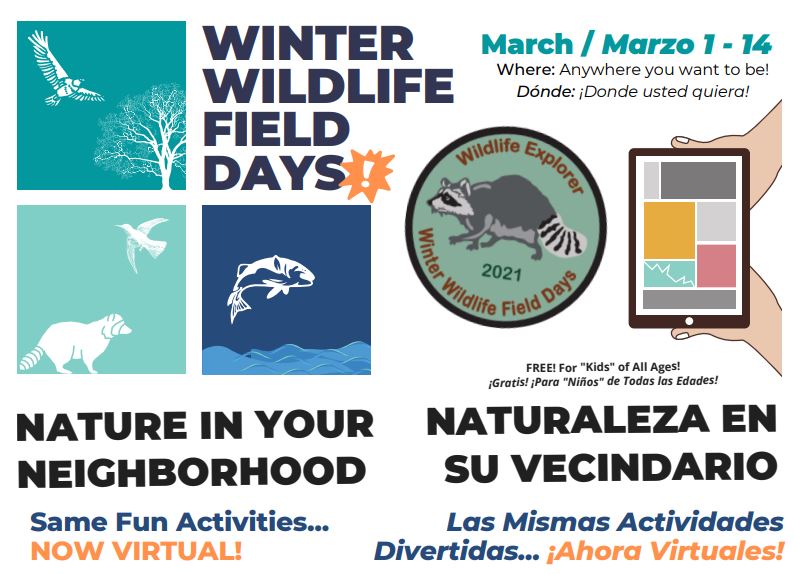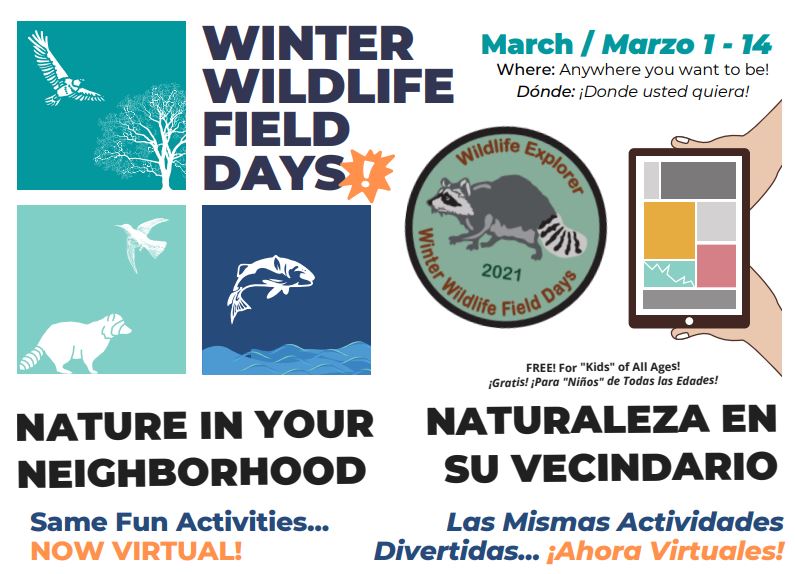 It's the Winter Wildlife Field Day you love but offered virtually on more than one day. Together, the 18 Winter Wildlife Field Day(s) partners have created two weeks of activities for you to explore the "Nature in your Neighborhood" – this year's theme. Join us for hands-on science, crafts, nature guides, videos, storytimes, engaging activities and even some pop-up installations you can visit and look for wildlife. There will be something for everyone in your family and of course everything will be in both Spanish and English. The passport and patch are back, too!
Passports are available now! You can pick one up in one of 7 Corvallis City Parks: Cloverland, Lilly, Tunison, Starker, Martin Luther King Jr., Garfield or Village Green.
Disfrute del Winter Wildlife Field Day que usted ya conoce, pero que ahora será virtual durante varios días. Juntos, 17 socios del Winter Wildlife Field Day han creado dos semanas de actividades para que usted explore la "Naturaleza en su vecindario", el cual es el tema de este año. Acompáñenos en las actividades de ciencia práctica, guías de la naturaleza, videos, cuentos, actividades interesantes e incluso algunas instalaciones temporales que podrá visitar e interactuar. Habrá algo para todos los miembros de su familia y, por supuesto, todo estará en español e inglés. ¡Tendremos de nuevo el pasaporte y el parche!
¡Los pasaportes ya están disponibles! Puede recoger uno en uno de los 7 parques de la Ciudad de Corvallis: Cloverland, Lilly, Tunison, Starker, Martin Luther King Jr., Garfield o Village Green.
For more information and activities / Para más información y actividades: www.WinterWildlifeFieldDay.org
You can watch virtual presentations on YouTube or Facebook! | ¡Puede ver las presentaciones en YouTube o Facebook!
Penny, the American Kestrel / Penny, el Cernícalo Americano
Bo, the Barn Owl / Bo, la Lechuza Común
Ferdinand the Turkey Vulture / Ferdinand, el Aura Gallipavo