Volunteer FAQs
Animal Care Volunteering at Chintimini Wildlife Center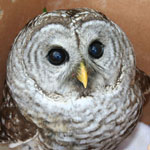 Thank you for your interest in Chintimini Wildlife Center! Please see below for some general information about becoming a volunteer with us.
Please click on the links below to view the FAQ answers




Who can volunteer?
You must be at least 18 years old to volunteer at Chintimini. No experience is required- our shift leaders will train you how to do all of the necessary volunteer functions.
Fill out an online application.
Within a few weeks, you will receive a response from the Volunteer Coordinator that details the date and time of the next orientation, the shifts that need help at the time, and directions to Chintimini.
Attend an orientation. The orientation is a chance for you to learn more about the center, take a tour, and find out what volunteering really entails and if it is something you are ready to do. Attending an orientation does not mean you are obligated to become a volunteer.
If, after the orientation, you decide to become a volunteer, you will choose a training shift and spend 4 weeks in a "training" period to learn Chintimini's policies, procedures, and protocols.
After those 4 weeks, you will be free to choose a new shift, take on additional shifts, or sub for those who cannot make it to their shifts.
What do we expect?
Because of the extensive amount of training that goes into becoming a volunteer with us, we ask that you volunteer at Chintimini only when you know you can commit at least 6 months to volunteering on a weekly basis. We ask that each volunteer pick a regular shift that they will come to every week at the same time.
When are the shifts?
There are shifts 7 days a week: 9am-1pm, 1-5pm (NOTE: This shift only takes place from May-September), and 5-9pm. Which shift you choose is up to you but some shifts may be full at the time of your inquiry. Check with the Volunteer Coordinator to see what shifts are currently in need of help.
Can I volunteer for college credit?
We have carefully crafted an internship program for both students and non-students looking to gain a hands-on experience with wildlife at Chintimini. These internships mirror the Oregon State academic calendar and include summer, fall, winter, and spring internship sessions. Students pursuing internships for college credit are responsible for completing their college's required paperwork. Please see the internships page for more details.
What if I have more questions?
Please contact the Volunteer Coordinator via email with specific questions.
Want to Become a Volunteer?
Contact info@chintiminiwildlife.org or 541-230-1220.